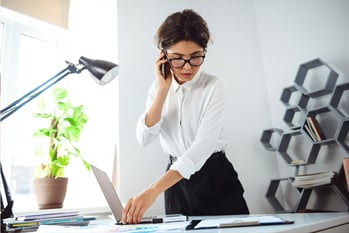 Are you passionate about innovation, challenges and brilliant solutions?

Selerant is a leading provider of product lifecycle management (PLM) software and works with some of the world's manufacturers and best-known brands including Nestlé, Lindt, Barilla, Intercos, Shiseido and Mapei.
Our software supports hundreds of companies around the globe in the Food & Beverage, Cosmetics and Chemical industries manage their new product development process, regulatory compliance and quality management needs.

Due to strong business growth we are looking to expand our international team.

PROJECT MANAGER

Role
As a SELERANT Project Manager - Professional Services within the Professional Services Department, you will be responsible for the innovative business and functional requirements lifecycle, including the requirements collection from various inputs, the business and functional requirements definition and design, the requirements alignment and harmonization, their prioritization based on the product vision, and the development monitoring through the Agile methodology.
You'll experience the excitement of working at and growing with a dynamic, fast expanding company where you can make a difference.

Responsibilities:
Assist with the business case definition for new innovation proposals
Work with the Product Owner and others to clearly understand and document the customer requirements, and associated business processes and behaviors
Refine and document detailed user requirements and provide clarity for the Development and QA functions
Working with Project teams to enforce best practice implementations and optimizing core product reuse. Specifically, refining requirements with Professional Services team members (and end customers where appropriate) to provide functional clarity and relevance
Validate the product in the development phases following the agile methodology
Support the QA testing processes effort, including development of user acceptance criteria
Support training efforts for Services, Sales and Marketing departments
Develop and provide PLM solution expertise

Core Competencies:
Demonstrated outstanding ability in English written and verbal communication, including technical writing skills.
Self-starter with leadership skills in order to take charge of or facilitate requirement-gathering sessions.
Quick learner on new products, systems, applications and technologies.
Able to work well with both internal and external clients, including the ability to proactively participate in user group workshops.
Project planning and monitoring skills.
Analytical, problem-solving and critical thinking skills
Willing to travel to customer premises in the requirements gathering phase.
Basic knowledge of web development including C# and web based applications.
Basic knowledge of SQL.


Education Expertise:
3 years+ experience in preparing functional requirements, working with use cases, business process modeling, and preparing use-case or sequence diagrams.
BS in Information Technology, Computer Science or similar discipline.
General knowledge of the full Systems Development Life Cycle (SDLC).
Knowledge of and experience in the use software design and modelling tools (e.g. UML etc.).
Selerant is a family-orientated company which offers a rewarding and collaborative working culture where every team member has the opportunity to contribute in a thriving environment were continuous improvement and innovation is highly valued.
Employees enjoy favourable conditions including a competitive salary and flexi-working (work-from-home).

How to apply:
Please send your application, CV and cover letter to
recruiting@selerant.com.
Applications may also be submitted via LinkedIn (please include your CV).

A competitive market salary will be offered to the successful candidate.

Selerant honors its commitments under articles 1 and 18 of Law No. 68/1999 and gives special consideration to candidates in protected categories. Candidates' personal data are processed by Selerant S.r.l for recruitment purposes. Full privacy policy statements can be found on www.selerant.com.

Selerant is an equal opportunities employer.