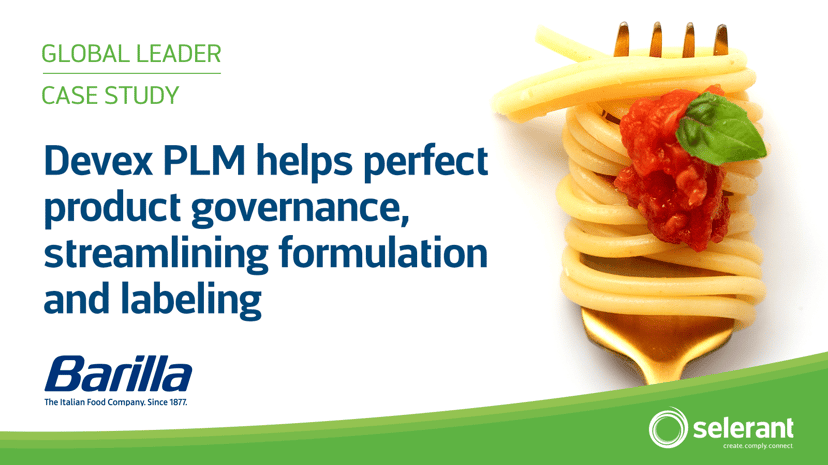 Customer
Established in 1877, Barilla is an Italian family-owned food company present in more than 100 countries. According to Forbes, Barilla is the largest pasta company in the world with an estimated $4 billion in annual revenue. Barilla also leads in the ready–to–use sauces market in continental Europe, bakery products in Italy, crispbread in Scandinavia, and is recognized worldwide as a symbol of Italian know-how.
Challenge
With the increasing demand to be agile, meeting fast changing customer needs and formulate the right products, recipe development and nutritional labeling processes are becoming critical optimization points. Committed to
continuous improvement, Barilla Group sought a way to streamline recipe development, manage nutrition labeling,
and maintain compliance with regulatory requirements.
Solution
After researching and testing several solutions, Barilla Group identified Devex PLM as meeting all outlined business requirements, and so it decided to move forward with Selerant.
Innovation Strategy
2010 – Devex Implementation. Product Development, Regulatory and Labeling tools.
2019 – The system has been upgraded to the Devex 3.7 version to take advantage of the extended solution functionality and enhanced and more intuitive user experience.
Outcomes
Flexibility and solid governance of product development as key benefits.
Quick adaptation to consumer needs. To meet rising demand among consumers for healthier food, Barilla has used Devex PLM to reformulate over 420 sauce, pasta and bakery recipes, which now contain less sugar, saturated fats, and salt.
Download full case study to read more.