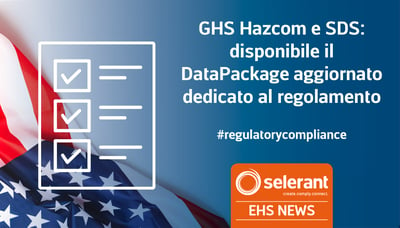 Nelle newsletter precedenti abbiamo avuto modo di trattare cosa prevede il sistema globale armonizzato (GHS) nel mondo e capire come le nazioni possano liberamente implementare tutti o alcuni di questi elementi, utilizzano l'approccio denominato building blocks.
In virtù di questo, le nazioni possono richiedere in Scheda di Sicurezza (SDS) dati differenti, a completamento delle informazioni riguardanti la classificazione di sostanze e miscele.
Il regolamento HazCom
Negli Stati Uniti la gestione delle questioni relative alla classificazione, all'etichettatura e alla creazione di SDS segue le indicazioni contenute nel regolamento 29 CFR 1910.1200 dell'OSHA (Occupational Safety and Health Administration), definito più brevemente HazCom.
In aggiunta a questo, il GHS degli Stati Uniti richiede di riportare informazioni specifiche, come quelle relative ai controlli d'esposizione e protezione individuale, i dati tossicologici o le indicazioni delle sostanze classificate come cancerogene secondo lo IARC.
In risposta a questo Selerant ha previsto lo sviluppo di pacchetti (DataPackage o DSR) dedicati al caricamento di queste informazioni sulle sostanze presenti nella vostra base dati, sgravandovi dal complesso lavoro di ricerca, estrazione e caricamento.
Il DataPackage nelle soluzioni Selerant
Il nuovo pacchetto di dati (DataPackage USA 2020.1) consente di importare e gestire le informazioni aggiornate per le seguenti sezioni della SDS HazCom:
Sezione 8 – Controllo dell'esposizione / Protezione Individuale

NIOSH Recommended Exposure Limits (NIOSH REL)
OSHA Permissible Exposure Limits (OSHA PEL)

Sezione 11 – Informazioni tossicologiche

Lista delle sostanze classificate come cancerogene nelle monografie dell'International Agency for Research on Cancer (IARC)
Lista delle sostanze classificate come cancerogene nel report del National Toxicology Program (NTP)
Lista delle sostanze classificate come cancerogene dall' OSHA
Lista delle sostanze classificate come cancerogene dall' NIOSH

Sezione 15 – Informazioni regulatory
Lista delle sostanze indicate nei regolamenti Federali:

TSCA Inventory e altre sezioni del TSCA (Section 12(b), Section 4 Test Rules, Section 5a Significant New Use Rules, Section 6 Unreasonable Risk, Section 8a PAIR/ CAIR, Section 8d HSDR, etc.)
Superfund Amendments and Reauthorization Act (SARA) Comprehensive Environmental Response, Compensation and Liability Act (CERCLA)
Clean Air Act (CAA)
Clean Water Act

Lista delle sostanze indicate nei regolamenti degli Stati americani:

California Proposition 65
Pennsylvania Right to Know
New Jersey Right to Know
Massachusetts Right to Know
La soluzione in pratica: disponibilità e download
Per chi avesse già sottoscritto l'abbonamento al pacchetto dati americano, a breve riceverà comunicazione contenente le indicazioni per il download del pacchetto di aggiornamento o riceverà un contatto dal Project Manager di riferimento.
Se non dispongo di un abbonamento?
Nessun problema. Integrare le informazioni contenute nei pacchetti aggiuntivi (Datapackage o DSR) è un'operazione che può essere eseguita in qualsiasi momento, sottoscrivendo un abbonamento al DataPackage USA.

A questo proprosito, per conoscere tutte le soluzioni disponibili per Hazex Professional, Hazex Corporate, Devex e HSM contattate il nostro Customer Service all'indirizzo:
EU-customer-service@selerant.com
Newsletter 132