Selerant has announced today a new release of its world-class PLM software, Devex 3.9.
With Devex PLM companies can expand product lines into global markets in an integrated and automated way while accruing lower costs and achieving higher product safety.
Committed to constantly improving the quality of its platform and extending the service capabilities to cover a fuller range of business process needs, Selerant focused this release on offering a more robust idea management solution, enhancing the supplier collaboration portal and strengthening regulatory compliance tools. The release also includes the ability to push fully automated upgrades to existing Devex customers.
From Idea to Label
Following its core concept that, "every product has a story, and every brand a promise to keep," Selerant's Devex PLM platform enables companies to automate, optimize and control critical aspects of the New Product Development and Introduction (NPDI) process, including innovation and R&D, specification and formulation management, quality and safety management, product portfolio management, compliance and packaging.

"At Selerant we're committed to delivering world-class PLM solutions with a strong investment in research and development. Our latest release, Devex 3.9, underscores our dedication to driving forward PLM innovation. Devex 3.9 serves up a restyled user interface and improved user experience that transforms the usability and accessibility of Devex for PC and tablet users," said Mariagiulia Faraoni, PLM Solution Manager at Selerant.
"The new workstream feature provides guided expert help for every task to simplify user adoption and improve usability. Devex 3.9 also introduces enhanced collaboration with new sharing and annotation tools for PDF documents and more project portfolio and process management tools."
Devex 3.9 introduces exciting new style and new Workstream functionality which helps to improve effectiveness in task execution and collaboration.
Learn more about what's new in all Devex PLM modules:
CUSTOMER EXPERIENCE ENHANCEMENTS
The new user-centered design in Devex 3.9 improves the overall usability of the system while leveraging its existing functionality. As part of our continuous improvement program, we've analyzed a wide array of system analytics and valuable feedback from customers to craft a new intuitive interface to boost the system's usability. Devex is now easier to use and more accessible from PCs and mobile devices.
INNOVATION PROCESS MANAGEMENT SUITE
Selerant's IPMS provides a best-in-class tool for the effective and efficient management of project portfolios. We increased connectivity and interactivity between the IPMS and other Devex modules with the addition of new graphics and automation of tasks.
DOCUMENT MANAGEMENT SYSTEM
Selerant's document management tool is an easy-to-use solution that allows the user to better control annotations and document versions as well as more efficiently manage the document approval process.
REGULATORY
Selerant advises its clients to run compliance assessments checks early and often during the various stages of product development to mitigate re-formulation needs and accelerate time to market.
LABELING
Selerant delivers on quick and accurate product label creation. With an emphasis on streamlining the usability of the label generation process, the latest release boasts improvements to the label process.
COSMETICS
Selerant provides an all-in-one solution designed specifically for cosmetics customers. Beginning in Devex 3.9, users can now speed up the Product Information File (PIF) creation due to the addition of automated regulatory calculations.
ENVIRONMENTAL, HEALTH & SAFETY FEATURES (EHS)
Selerant aims to provide customers in the specialty chemicals vertical with an automation and analysis tool to ensure the compliance of, and produce the required documentation for, their products. Our software is updated as new legislation or new amendments are published.
ECO DESIGN
Our solutions help to achieve a new level of efficiency of resources' utilization. We help our customers maintain environmental and economic sustainability throughout the product development processes.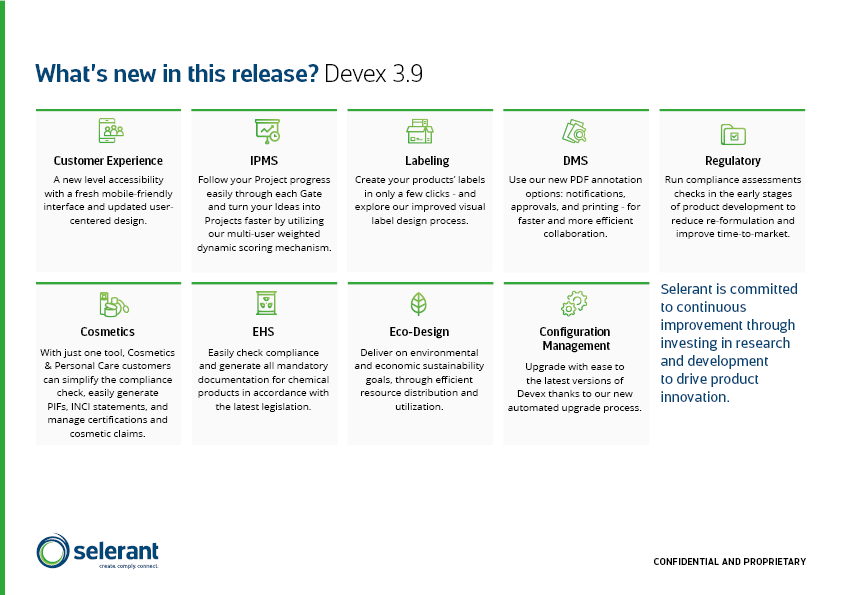 "We're proud of the evolution of our product in the 3.9 release especially in user experience", said Jacopo Colombo, Selerant's Chief Technology Officer. "Devex 3.9 introduces advances in usability and collaboration as well as innovations in regulatory functionality. Cosmetics customers will find an enhanced PIF solution with expanded features, which will offer improved data management and reduce product time to market and development costs."
Existing Devex customers can contact their Selerant account team for a demo of Devex 3.9 and a product update.
For more information click here or contact sales@selerant.com.