Bill of Materials (BOM): An Essential Guide to Product Creation
Process manufacturers rely on a central source of truth that encapsulates every ingredient and material involved in product creation: the bill of materials.
A bill of materials (BOM) is a universal record of all the raw materials and packaging components necessary for production. In essence, it's the master list of substances and materials used to create any product, along with instructions for sourcing and using them.
If your business manufactures formula-based products, the first step toward their creation is a BOM.
Find out how Selerant Devex PLM integrates BOMs into your overall ERP system.
Key Takeaways
In this post, we discuss the purpose of BOMs, why they're so important, and what's involved in their creation.
We'll cover:
Bill of Materials Definition

A BOM is a comprehensive inventory of a product's raw materials and the quantities needed to manufacture it. It's the recipe you need for the production process, structured in a hierarchical format.
The top level of that hierarchy displays the finished product, while successive layers demonstrate a breakdown of subcomponents, typically broken out into the container, closure, label decoration, packing material, and product formula. At the very bottom level, the BOM outlines the individual materials and substances used to create the product.
Imagine the BOM for a bottle of spirits:
The top level presents the entire bottle the consumer would purchase.
Intermediate levels depict the different components of the overall product, including the bottle, the label, and the spirit itself.
The bottom level outlines individual ingredients for the spirit and the materials that make up its packaging.
Creating a BOM frequently represents the first step in a manufacturing project. It's essential because it helps the business identify, price, and manage procurement for the building blocks of a product before it moves into production.
An Effective Bill of Materials Example and Its Key Elements

BOMs can be as intricate as they are essential, but they tend to contain a few standard elements.
First, let's take a look at an excellent example of a BOM: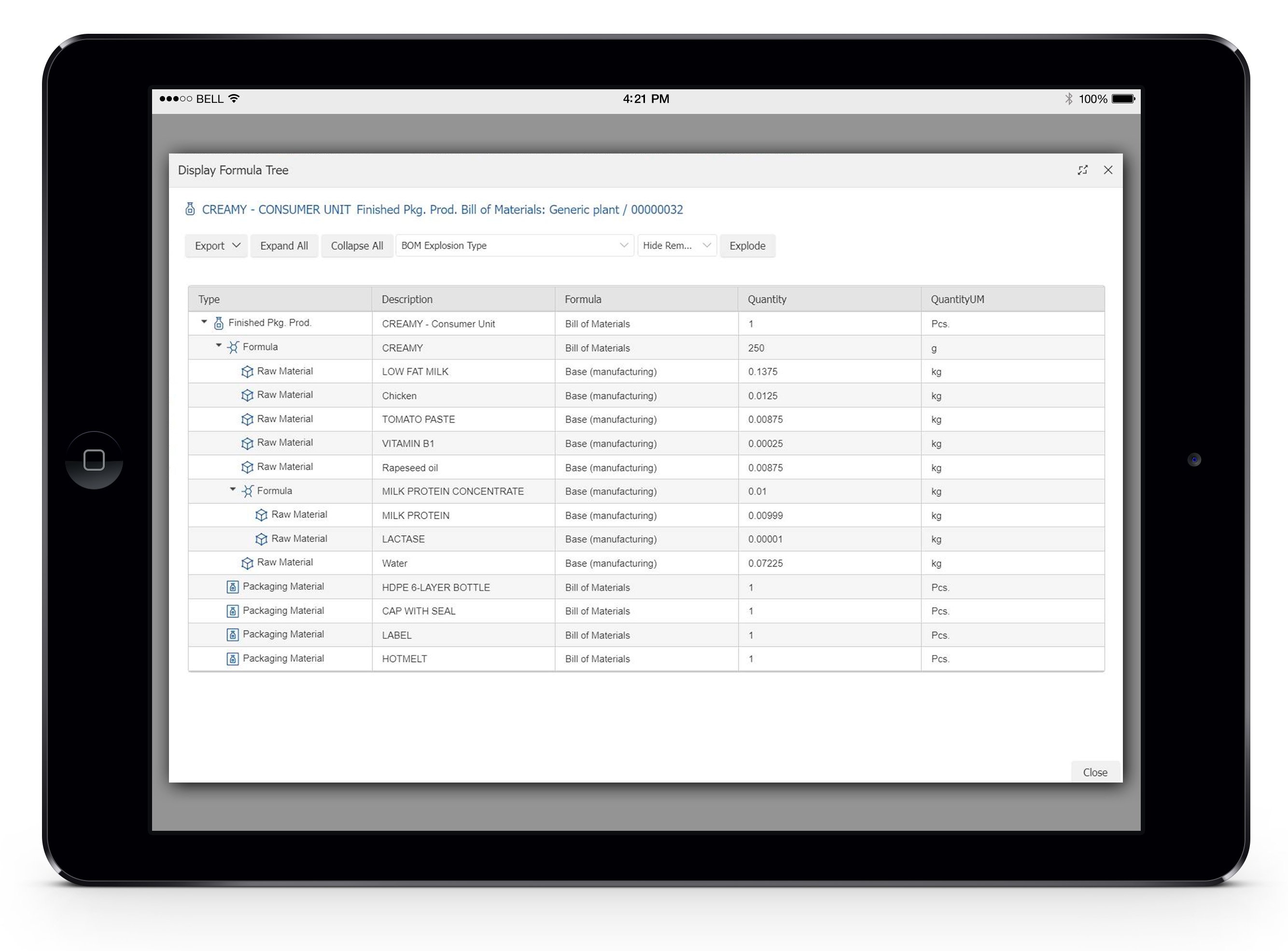 BOM Level
Each level of the BOM has its own distinct number. By associating the number for each BOM level to individual packaging components or substances, your users will be able to understand where items fit into the overall hierarchy quickly.
Item

Number
Each item and assembly has a unique number. This number helps you easily identify and reference individual materials.
Item

Name
Individual names for each element of your product simplify identification and management.
Description
A detailed description goes deeper into a substance's or component's attributes, helping distinguish similar entries from one another.
Status
Status represents where each substance or component currently stands in its lifecycle, for example, "in production" or "in transit." It gives you visibility into readiness and timelines during new product development and introduction (NPDI).
Quantity
This is where you'll include the quantity of the ingredients and the number of pieces for each package item.
Unit Measure
Specifying the unit measure ensures that quantities are precise and ordering is accurate. Different materials use a variety of measures like volume, weight, or pieces.
Procurement Type
Procurement type outlines how to create or obtain each substance or component. Knowing if a component is off the shelf or made to specification helps streamline the procurement process.
BOM Notes
The BOM notes are your catch-all field for anything else that might be relevant to your product's components. Think of this section as a flag for crucial information that doesn't fit into any other category.
Each of these elements has a vital role to play in the functionality, navigability, and ultimate utility of a BOM.
Why is a Bill of Materials Important?

BOMs are crucial for several reasons. They help ensure that everything you need is in place before you begin production. As a result, you can minimize the risk of delay by avoiding material shortages and can save resources by eliminating unnecessary overages.
If you work closely with supply chain partners like contract manufacturers, BOMs can be a vital asset in making sure the ingredient or component you receive meets your product specifications. They're crucial to enterprise resource planning (ERP) and materials requirement planning (MRP), and they're an essential part of meeting your efficiency and budgetary goals.
Bill of Materials Displays


Typically, BOMs have two different kinds of displays, explosion and implosion, representing a top-down or bottom-up view. These kinds of BOMs either start with the finished product and break down into successive constituent components or begin with the components themselves and ladder up to the finished product.
In the case of Selerant Devex PLM, BOMs feature a "where-used" display. This view allows you to see which products use each component. Teams typically leverage the where-used display to run impact assessments for changes to materials or substances.
Looking at a BOM this way helps them discover how a change to any single component will affect different products. It also helps plan corrective actions by making it possible for users to find which products may be impacted by a defect in the ingredients or packaging items.
Advantages of Using a Bill of Materials
A BOM doesn't just eliminate the inventory issues that can lead to production delays. It's also an important part of quality control. By ensuring uniformity across ingredients and materials, a BOM drives product consistency, satisfying both customer expectations and regulatory demands.
In the event of product failures, BOMs enable forensic tracing of the deficient item. That visibility allows manufacturers to remediate quality issues within the relevant supplier or production process.
In short, effective BOMs empower efficiency, quality, and savings.
Different Types of Bills of Material

Different types of BOMs come into play at various stages of the product lifecycle. They highlight the information that's most relevant to the teams who need to access them. For process manufacturers, there are four distinct types of BOM.
R&D Bill of Materials
The R&D BOM is the main output of the NPDI process. It defines the design of a finished product, including all alternative and substitute ingredients and packaging items. A PLM system is the source for the R&D BOM, and it will typically go through several iterations as the product approaches its final form.
Primary, Secondary, and Tertiary Bills of Materials
R&D BOMs can also break out into several levels. That way, manufacturers can use the same overarching BOM to create the product itself, with successive levels representing different packaging configurations. For example, the primary level for a soda product would represent the can of soda itself. The secondary level would break into the various combinations of cases used to package those soda cans for distribution and sale.
Manufacturing Bill of Materials
The manufacturing BOM determines how a product is assembled. This is your source of truth for all the material and documentation associated with the manufacturing process itself, breaking down the list of components into processing stages in the proper sequence. It keeps the manufacturing process precise and helps eliminate the risk of delays, errors, logistical issues, and budgetary uncertainty.
Site-specific Bill of Materials
A site-specific BOM can arise from a generic manufacturing BOM. While an overarching manufacturing BOM contains generic ingredients and packaging materials, site-specific documentation will reflect the availability of components at that site, its equipment, or regulatory and quality constraints associated with the location.
In the realm of process-based PLM, manufacturers mostly use multi-level BOMs where they can re-use intermediate formulations for multiple products. Imagine a blend of vitamins used for several infant formulas. The basic recipe will remain the same for the overall product, and they'll only differ in terms of the final flavoring ingredients. As a result, process manufacturers can save time and effort on product development by only editing their product formulas where necessary.
Who Should Use a Bill of Materials?


BOMs have implications for team members across your company, making them profoundly collaborative and cross-functional tools. From R&D and procurement to quality control and sales, many teams will need access to the information contained in the different types of BOMs.
The cross-team role a BOM plays and its usage throughout the product lifecycle means that a high level of detail and rigorous accuracy are non-negotiable. As a single source of truth for many stakeholders across your business, there's a lot riding on this documentation.
T
he Selerant Difference


Every part of a manufacturing business relies on BOMs, so accuracy and attention to detail are absolutely essential. Errors can have catastrophic effects in terms of efficiency, cost, and reputation, so avoiding the unnecessary risks that come with manual BOM creation and management can save you time, budget, and stress.
Automating BOM production through your ERP system can help you mitigate those risks. Selerant Devex PLM gives manufacturers the power to create material masters directly within your ERP system and initiate manufacturing processes more quickly by keeping materials, classification, documents, and BOMs all in one place.
As the main platform for substance information and R&D data, Devex PLM functions as the master source for R&D BOMs. It also transfers technical BOM data as intermediate codes (iCodes) that help generate master specifications. Finally, by integrating Devex with your ERP system, your team can easily transform R&D BOMs into usable manufacturing BOMs.
Incorporating Devex into BOM creation and management integrates your ideation, production, and go-to-market processes, all while ensuring your documentation is always up to date and immediately accessible to the teams who need it.
Learn more about the unique Selerant approach, and see how Selerant solutions optimize efficiency, ensure quality, and streamline process manufacturing.