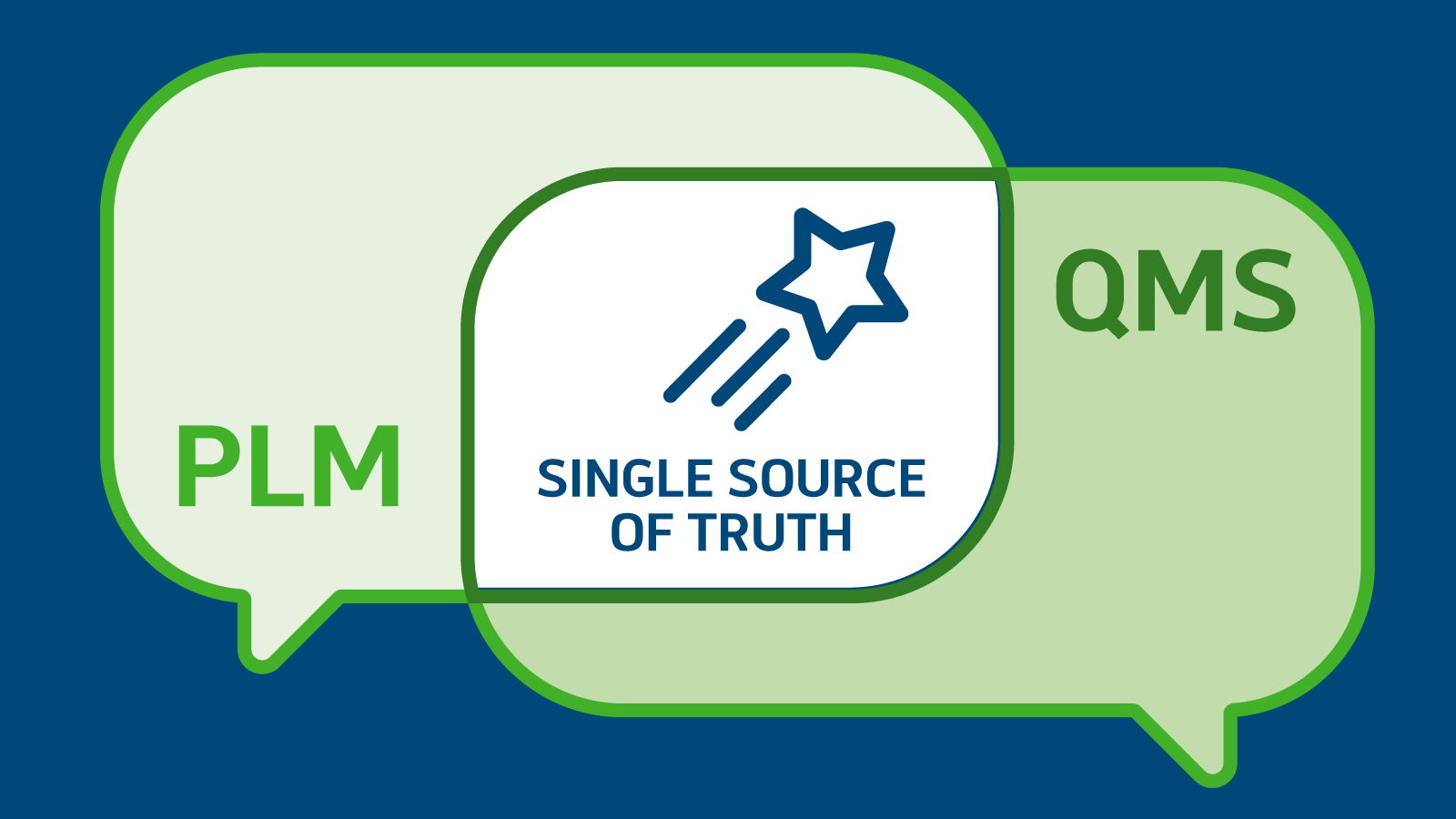 At food and beverage brands, Quality groups and Product Development teams have traditionally managed two separate but interconnected work streams for ensuring product integrity.
In our previous post, we outlined why using only a QMS system to manage all of the aspects of product quality actually makes it more difficult and less cost-effective for both groups to track both real-time and historical quality benchmarks
On both a functional and strategic level, Product Lifecycle Management (PLM) systems can consolidate and integrate most, if not all, of the quality management aspects of product development in real-time.
Functionally, PLM can capture quality data directly on product specification templates and vendor questionnaires and auto-enforce quality limitations and restrictions on that data at every step of the innovation and development process.
Strategically, this functional ability means PLM software can be used by Quality group to continually capture the full history of product information and correlate the many different factors that affect product quality across the enterprise. By tracing data down to the substance level across all product lines, brands, and vendors, inconsistencies can be uncovered on a global level and resolved with limited downtime.
For brands that want to more tightly integrate quality management and product development (and don't want to pay for and service two separate systems to do so) here are four ways that Quality groups can use a PLM system to directly and effectively automate quality management activities.
Integrate quality testing during recipe/formulation creation
PLM enables quality and safety parameters to be directly integrated into formula design with data templates and workflows. This empowers Quality and R&D teams to more easily collaborate and work with quality requirements right from the point of innovation and testing.
Quality groups can use PLM to:
Apply testing protocols, such as product cuttings and sensory evaluations, to ensure that products conform to specifications from the start.
Participate in automated formula approval workflows, ensuring formulas meet quality requirements before activation.
Easily find substances and ingredients across product lines and calculate the cost of alternative substitutions for improved product quality.
Duplicate approved recipes and creating multiple products from one formulation to meet faster launch times while meeting standardized quality requirements.
Integrate quality parameters into ingredient and packaging specifications
Instead of storing quality data in a separate system, PLM systems enable Quality groups to set quality parameters directly alongside and linked to other product attributes, providing a full view into product design.
PLM has quality management parameters that allow Quality managers to:
Create data fields for quality measurements on ingredient, finished product, and packaging specifications templates and claims management requirements.
Use quality data fields in roll-up calculations to create more accurate finished product specifications.
Enforce the use of specific ingredient types and substances within different specifications.
Indicate when items are received at a plant and which information must be submitted with a Certificate of Analysis (COA).
Instantly identifying quality requirements that need to be changed within individual formulations or across multiple recipes.
Control supplier quality data from the start
Trying to evaluate how current and previous goods received from suppliers and vendors stack up again internal and regulatory quality standards is a never-ending process. With PLM, it is no longer a mystery if supplier procedures affect or meet quality standards.
Supplier data and documentation can be brought into the product lifecycle through centralized supplier portal that provides continuous control over vendor qualifications at the point of product creation. With digital vendor questionnaires tailored to each supplier, it's much easier to determine if the suppliers being sourced align with the manufacturer's needs and pinpoint where any quality issues may have originated.
With Devex PLM's Supplier Collaboration Portal, Quality groups can:
Enable suppliers to enter their own quality data to submit quality process under consideration.
Review and upload supplier quality data into the Devex PLM system if/when accepted.
Publish critical quality documents to a secure portal for customer and supplier access.
Trigger exceptions and follow-ups If suppliers don't provide the right quality information in a timely manner.
Produce a traceable and complete history of suppliers' quality standards and activities relative to the manufacturer's product development process.
Ensure manufacturers adhere to quality standards such as ISO 9001 without spending an inordinate amount of time tracking down missing or incomplete supplier information.
Generate detailed quality reporting on-demand
Effective quality management goes beyond having an information repository. Instead of using a separate QMS tool to piece together a snapshot of quality standards from various parts of the business, PLM enables manufacturers to automatically run data analysis and create views into product quality with a wide range of reporting capabilities.
Quality groups can generate reports that:
Capture ECR, ECO, CAPA, NCMR, DMR and DHF documentation in one place.
Show a full snapshot of complaints, deviations, non-conformance, and other quality issues.
Determine how a specific complaint may have impacted many areas of the business over time.
Identify where ingredients and substances are used in which formulas, where they originated, and how they changed over time
Identify market trends based on quality data to drive product innovation and quality improvements
By integrating quality processes and data limits directly into product development procedures, quality management becomes a shared initiative rather than an ad-hoc process. Using a PLM system like Devex to manage a quality program enables Quality groups to facilitate more comprehensive quality control and issue resolution.