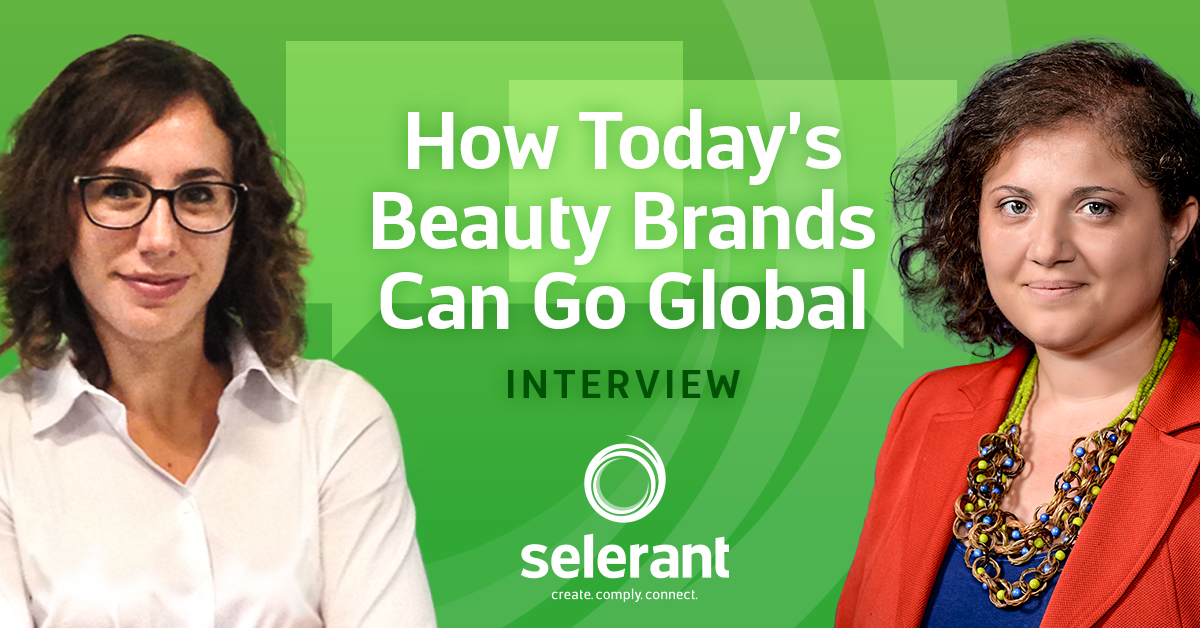 We recently sat down with Mariagiulia Faraoni, Selerant's Global Head of Solution Management, and Chiara Zaffino, Selerant's Regulatory Specialist, to discuss the major trends in the cosmetics industry and how advancements in the PLM space are enabling more efficient and compliant product launch timelines.
How are today's consumer preferences impacting the beauty market?
Faraoni: Like the food industry, the beauty industry is undergoing a very similar trend shift towards natural, organic and health-based formulations. Consumers want to know that the skin, hair, and makeup products they are putting on their bodies don't contain many synthetic materials, come from cruelty-free sources, and offer natural elements and minimal ingredients.
Another major shift in the marketplace is an emphasis on gender-neutral products and product advertising. Many manufacturers are beginning to create products that can work for and be marketed to all genders. In the same vein, we're seeing demand for hybrid products that can offer more than one function to the consumer.
Zaffino: These changing standards ultimately mean that consumers are expending greater level of detail about ingredient and production processes on product labels and from brands themselves. This is causing manufacturers to open up their formulation books, so to speak, and offer consumers even greater transparency into how their processes and product claims align with specific consumer values. There's also the added pressure of ensuring that the process of a brand's suppliers, co-packers and other external collaborators also align with those values.
What are the most common roadblocks cosmetics manufacturers are experiencing when trying to expand these products to new global markets?
Faraoni: One of the biggest challenges that beauty brands face when globalizing their product lines is the sheer volume of insights they need to track across markets and consumer groups. The options and channels that brands have for gathering consumer insights have grown exponentially. Social listening across social media sites is a major gold mine for consumer insight and new product innovation ideas. If they have the finger on the pulse, brands can directly interact with their consumers online and get real-time feedback, but there's also a lot more "noise" to sift through in order to correctly analyze and prioritize consumer insights for product changes.
We're also seeing brands creating highly digital, personalize experiences like beauty apps and beauty subscriptions, 3D printed face masks, smart sunscreens and other products that are tailored to each consumer's own body. In order to build these kinds of highly personalized, experiential products and tie it into a digital e-commerce platform, brands must overhaul their internal technology infrastructure and product data architecture.
This more direct consumer feedback loop is, in turn, now putting pressure on the product launch timelines of Innovation and R&D groups. Staying competitive in today's landscape means launching or updating products as quickly as social listening insights can be pulled. Normal timelines for reformulation and stability testing are being squeezed. Teams across departments not only have more data to manage and analyze, but they have less time to take action around it for effective product launch.
Zaffino: In order to launch products globally, brands must take over the overwhelming tasks of claims tracking and certification submissions.
Because certification requirements like those devoted to natural origin content, and admitted claims vary so much between countries, it's a Herculean task to research, submit, track, and manage all requirements for each market and product variation on a global level.
What are some of the internal changes you're seeing manufacturers make in response?
Faraoni: Meeting rapid, cost-effective launch timelines and digitally-integrated products requires a huge level of cross-department collaboration. Brands can no longer keep their formulations in locked away in the ivory castle of a laboratory; they are starting to invest in tools and technologies that automate open data workflows and track status changes, tasks, and documents between product groups.
For example, an Innovation team may be using their own project management or innovation portfolio tool, while the Product Development team uses Excel for product tracking, and lab notes are kept in a separate system. All of that data needs to be compared against cost information and historical trends, which are typically housed in an ERP system, to make the final decision about which products will offer the greatest ROI in each market.
Very few brands have all of this product data in one place. There's no single point of truth for product information, which limits educated decision making around product lifecycle costs, innovation priorities, and market health. So we're seeing brands start to use one system—usually a PLM system—as the master system for product lifecycle data in order to harmonize information across the enterprise.
How does Devex PLM for Cosmetics change the way manufacturers can facilitate their NDPI processes?
Faraoni: The Devex for Cosmetics system contains modules that, when combined, can manage every single step of the product development process from ideation to labeling. We're seeing beauty brands implement this not just as their PLM system, but as a transformative technology for connecting innovation prioritization, project portfolio management, cost analysis, supplier collaboration, and of course, formulation and product creation. The system really automates time-consuming manual steps and promotes product expansion in three major area.
Zaffino: First, the Devex system enables brands to capture, store, and share innovation ideas from all areas of consumer insights and internal business departments. Instead of wondering about the status of innovation projects, ideas can be shared and prioritized between Marketing, Innovation, and R&D groups for a more efficient, coordinated effort to develop the most viable products.
Similarly, because all product data is accurately integrated into one system, product teams can see and analyze resource availability, cost, market fit against potential formulations. Deeper analysis means product groups are spending more time developing the most impactful products and less time on non-viable projects.
Faraoni: The system also acts as the single repository for all raw material sources and variations of past and current formula trials and BOMs. R&D groups can quickly determine which materials to use and leverage institutional knowledge from past projects to efficiently create new product versions.
Likewise, if ingredients need to be substituted or formulation is required for expanding product lines, the system can easily recall all the formulation varieties that are using those for global substitutions. Stability testing is tracked in the same place as formulation development. Formulation data can then be used to generate packaging and labeling documents.
"Ultimately, the system provides product development teams with all of the data they need—in a readily accessible format—to take action and make rapid, competitive decisions throughout each step of product development in response to consumer demands."

- Mariagiulia Faraoni, Selerant Solution Management
Zaffino: The compliance benefits of the system also can't be overstated. One of the most helpful features is the ability to run checks on regulatory thresholds at the trial formula level. Instead of waiting until the very end of the development process, R&D and Regulatory teams can collaborate at the point of innovation to understand if potential products will meet religious, natural origin and other consumer values and compliance claims. On a functional level, the system can also be used to digitally generate and store INCI statements for labels and SDS so that compliance assurance processes can be expedited.
Faraoni: This functionality has always been available in the core Devex PLM system. What we've done with the new Devex for Cosmetics system is tailor the data fields, documents, workflows and other system design features into PLM templates built specifically for cosmetics new product development. A pre-configured solution like this greatly speeds up deployment. Instead of trying to fit their desired NPDI process around certain software limitations, beauty brands can really use the system to quickly launch a digital PLM processes that works for their exact business.
For manufacturers who are already rushing to meeting product innovation timelines, it's an attractive solution. They don't need to spend a lot of time configuring a new piece of technology or spend years on change management. The system can be implemented and configured for product groups without costly IT customization, allowing them to keep focusing on product innovation, not IT customization or complex day-to-day data management.