At our 2022 User Conference, we heard from long-time PLM for food & beverage champion, implementer and system owner Gordon Conkling. As the former (now retired) Lead Business Process Specialist at Welch's, Gordon was responsible for ensuring a successful PLM launch. In this series he shares key takeaways in driving adoption.

Post 1: PLM Goes Better with Buy-In
---
Convincing people of the need for change—any change—can be challenging.
Getting organizational buy-in on a major shift, such as the adoption of new Product Lifecycle Management software that will manage every aspect of the product journey—from ideation to development to delivery—can seem like a truly daunting task.
Thankfully there are logical steps you can take to develop an effective 'case for change' as you move toward PLM implementation.
Tell a compelling story
As a veteran product manager with global food and beverage experience explained, "The case for change really needs to be a story that you can use to explain to the entire organization what is going on. The objective of your story is to provide a common baseline of awareness, understanding, and the urgency to take action."
But telling a compelling story may be more difficult than it sounds at first blush. Research shows that 75% of the management at a company needs to buy into change (whatever it might be) to be successful.
The good news is that once you succeed in building your case for change, your new PLM initiative is likely to be far more successful and long lasting.
Customize your outreach
One trick to building a strong case for change is to tailor your story for specific audiences. Your regulatory teams likely have different wish lists and needs than your product development or packaging staff. Taking the time to customize your PLM pitch for various stakeholders can pay dividends as you work to build support.
And keep your presentations brief and visually engaging. "I find a 12-15 slide PowerPoint works best," says the food and beverage product manager. "Use pictures in your story. Maybe show a Value Stream Mapping (VSM) diagram to help people understand how much time and money is currently being wasted."
Explain the 'why'
Your teams are busy, with a million tasks on their to-do lists. Helping explain the "why" of what you're doing can rally people and help them understand the drivers and urgency behind the move to a new or improved PLM.
If you conducted background research via Value Stream Mapping or another technique, be sure to talk about opportunities that you uncovered—such as how various teams' jobs might get easier or more efficient. And clearly articulate threats that might arise from not adopting a new PLM—such as the risks associated with using out-of-date software.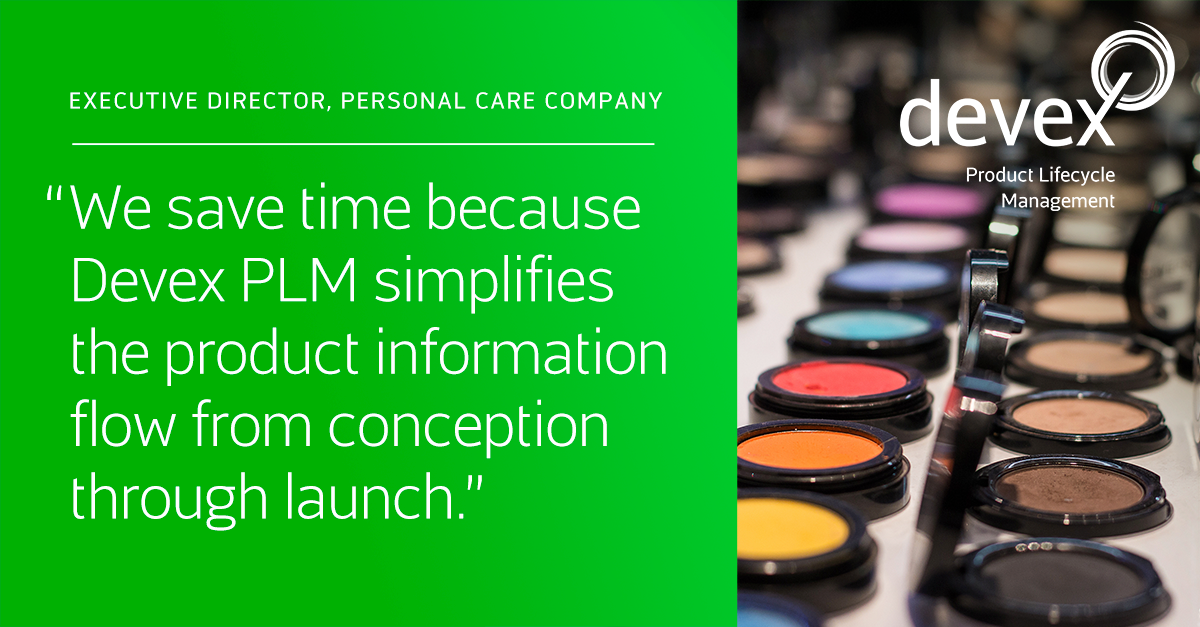 Share context and be clear about the steps involved
It's important to share context for why you're advocating a shift—and articulate it clearly, on a high level. Be sure to let staff know what's not changing, as well. Doing so can lower anxiety levels and reassure people that their whole world's not changing.
Describe the implementation process and take people through next steps. Share high level project plans, and let folks know who they can contact, with questions and concerns.
Establish urgency
What are the consequences if you don't implement or upgrade your PLM? Will you potentially lose technical support? Could security be compromised? Let your teams know the risks involved in procrastinating and help them understand the urgency of acting in a timely manner.
The case for change is easier when you present the right solution
Devex PLM for Food & Beverage is the PLM solution specifically designed to help manufacturers thrive in today's ultra-competitive marketplace—and there's a lot for stakeholders to like:
Modular and configurable Devex offers linear and intuitive tools that reduce the time needed to confirm data accuracy.
Devex can improve quality and reliability, and ensure compliance on critical legislative requirements.
Devex accelerates product launches, and helps teams stay current on required template changes for compliance documentation—all in a stable, SSOT environment.
By making it easy to connect labeling and other product lifecycle necessities to the very start of product development, Devex empowers manufacturers to achieve even the most ambitious goals.
Interested in finding out how Devex can help your company? Schedule a demo today.