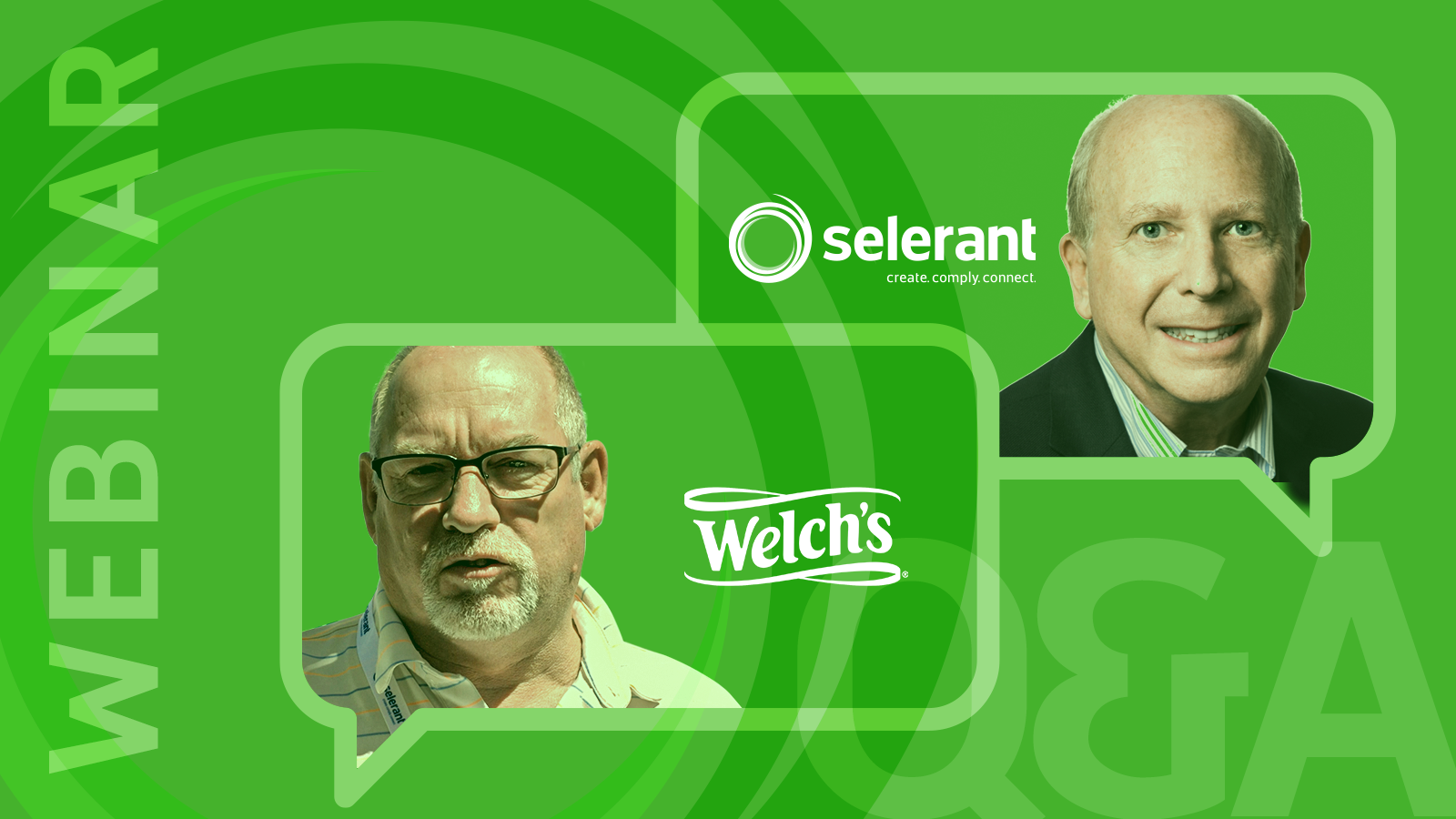 In a previous post, we collected some post-webinar questions asked of Welch's information technology professional Gordon Conklin and Selerant VP of Sales Michael Frankel during the June 2020 webinar.
This post is part two of that Q&A on Selerant's Supplier Collaboration Portal (SCP). Let's dive in.
Q: How do you handle pushback from suppliers?
A: As outlined in the first Q&A post, the SCP is about putting you in control through standardized questionnaires. Rather than suppliers attaching 100 documents to an email and leaving you to sort through them, you determine the questions and format upfront.
That way, the information you receive from suppliers is all in the same format. That makes reports, searching the database, and just about everything else having to do with supplier data easier.
Instead of spending five minutes attaching documents to an email, then, suppliers might spend 30 minutes answering your questionnaire.
So it's really just about who's doing that work. One pro tip: if you foist the work on suppliers without an explanation, you might get pushback. In our experience, though, once you explain why you're adopting a new process, suppliers tend to come onboard without much fuss.
Gordon went into more detail on this question in the webinar.
Q: Is the SCP easy to maintain? Can you update fields yourself or does Selerant need to be involved for things like adding questions to questionnaires?
A: Most small changes, like updating questionnaires, you can do yourself. For more complex changes—custom workflows, for example—you may want expert guidance.
Q: If you have multiple suppliers for a single material, is there a kind of worst case specification you can use to compare both suppliers?
A: This one's tricky, but generally speaking automating this sort of thing can backfire. A lot of what goes into a decision as to what constitutes worst-case scenarios is subjective, and there's a lot of interpretation involved.
That said, the SCP can help. You can create your own internal spec by copying questions from one supplier, plus questions from another supplier, and combining those answers.
Q: Can we share audit reports with external, third-party companies if we choose?
A: Yes, you can schedule jobs for certain reports, and those reports can be sent automatically via email.
Q: Does the SCP have recall management/execution capabilities?
A: The answer to this question depends on your recall management policies. Generally speaking, recall management functionality is handled by a full-blown product lifecycle management (PLM) solution like Devex. As such, the SCP doesn't include recall management capabilities out of the box. That said, certain configurations can be implemented to support recall management.
Q: Can the SCP integrate with PLM systems other than Devex?
A: It's not a common request, but we can build integrations with other PLM systems.
Q: How does the SCP help with document compliance and maintenance?
A: Document expiration dates can be set according to company policy or according to the supplier's policy. You're in control of that.
You can also set automatic notifications at a time of your choosing, so if you want to receive an alert 30 days before a document is scheduled to expire, you can do that.
Q: Can the SCP push formulation and other manufacturing instructions to suppliers?
A: Yes. Just as the supplier can share information with you, you can share information with suppliers, including PDFs, Excel files, and reports.
If you're a Devex customer, there are integrations between Devex and the SCP that make this sharing easy and seamless.
Q: Does R&D typically use the portal for requesting samples from new or existing suppliers?
A: Yes, this is a pretty standard use case. Sample requests are a specific category of the included questionnaires. R&D departments often send those to suppliers outlining a specific need and inquiring as to whether or not the supplier can send a sample that speaks to that need.
Suppliers can also include details on the sample in their reply, such as sample type, how many they're sending, and whether they're mailing the samples or personally stopping by to deliver them.
Q: What's the range of development times for new clients before they go live? How quickly is full adoption usually reached?
A: This depends on a lot of factors. Development can take a few weeks to a few months, depending on the complexity of the solution.
We recommend batching suppliers based on their usual level of responsiveness and your relationship with them. Kicking things off with your most responsive suppliers is a good way to gain some momentum.
At the risk of over-generalizing, you can expect about a month of development for small implementations (10-20 suppliers) to up to a year for larger operations (100-200 suppliers).
_______
That does it for this round of Q&A. Again, thank you to all who attended the webinar and provided the thoughtful questions.