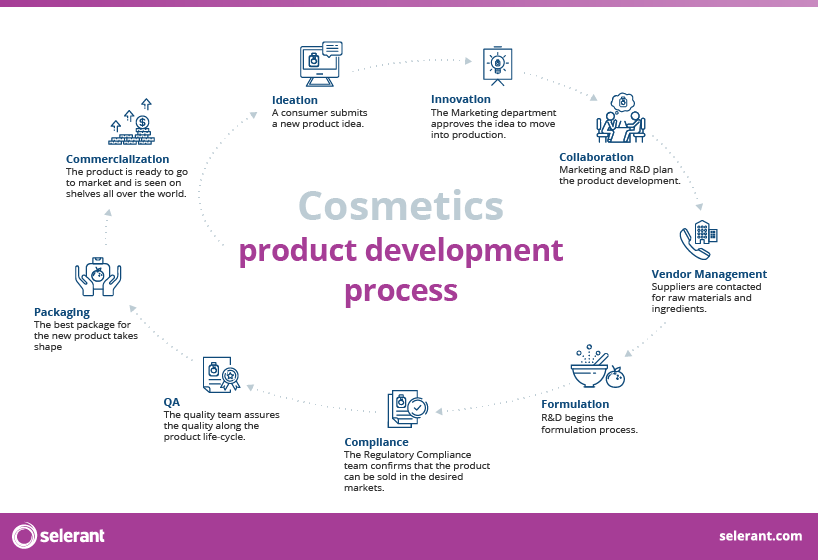 Consumer-driven innovation
Product formulators in cosmetics companies are now more than ever overwhelmed by the influx of consumer and market-driven demands for new products.
From more sustainable packaging design to virtual makeup application experiences, consumers want and need more from cosmetics companies. They expect these demands to be met, and quickly.
As cosmetics companies expand their product portfolios to meet these demands, they may find it difficult to keep track of product data, regulatory compliance needs, packaging demands and various other elements that influence the creation of new products.
The many teams working to create new products—R&D, Regulatory, Packaging, Quality, Marketing and more—may find it difficult to collaborate and wish they had access to a single source of truth (SSOT) where all product information is maintained, updated and accessible.
One PLM system to unite them all
At a very basic level, a PLM system like Selerant's Devex PLM is used to manage both cosmetic raw materials and the finished products. All product development documents, from regulatory to operational, are stored in a single tool.
Not only are all of the people involved in the creation and management of the cosmetic production process empowered to collaborate inside of a single system, but the challenges product formulators face with formulas being buried in thousands of Excel files are also no longer an issue.
From idea to label
Beginning with the driving idea behind a new product, all the way through to creating the product label contents, a PLM system can support and expedite new product development at cosmetics manufacturing companies.
Of course, your product development process is unique to your organization, but it typically looks something like this:
A consumer tweets an idea for a new product
The Marketing department actually thinks it's a great idea
Marketing talks to R&D
R&D starts the formulation process (albeit reluctantly – it's not easy making unicorn fairy dust that's eco-friendly and works on all skin tones)
Suppliers and vendors are contacted for raw materials and ingredients
At some point, the Regulatory Compliance team is involved to make sure the product can be sold in the desired markets
The Quality team does its job to make sure all the kinks are worked out
The Packaging department wraps the product up in a nice shiny way that's sure to attract the attention of beauty aficionados everywhere
Profit
Repeat
Now, what happens if during step number six, the Regulatory Compliance team finds out the product is not compliant in a certain market?
What if you get halfway through the product development process and find your budget is tighter than expected? Is the project axed?
Then we're back at square one. Or, are we?
A PLM system can help! Easily manipulate a formula on the most basic level and watch the change multiply throughout the entire product lifecyle.
Not all ideas are good ones
Use a Product Portfolio Management (PPM) tool like Selerant's Innovation Process Management Suite to identify the financial impact of developing a product before formulation even begins.
Formulation and recipe management
Perhaps the most obvious advantage to using a PLM system is how much easier it makes product formulators' jobs. Gone are the days of pouring over a thousand-cell Excel sheet until your eyes are bleeding.
With a PLM system, formulators can keep track of all their precious formulas in a single place. A change made at the ingredient level resonates across the system, so you don't have to spend all day CTRL + F-ing and replacing.
Build successful products, not data silos
As many product managers know, one of the biggest roadblocks to getting products to marketing on time and quickly is data quality.
Usually, product data lives between multiple systems, such as ERP, CRM, and more. Even with tight integration, data originates and is managed by separate groups among the functional Innovation, Marketing, Regulatory teams as well as outside vendors and suppliers. Conflicting or incongruent data usage between many different groups make straightforward data sharing and data harmonization difficult.
A PLM system help ease the burden by automating company-level data standards within product data and system design.
Create strong supplier relationships
Speaking of data quality, we know it can be a huge pain to standardize the quality of data thrown at you by ingredient suppliers and other vendors. Luckily, Selerant's Devex PLM system has a special tool just for that!
Selerant's Supplier Collaboration Portal (SCP) provides one system to gather, store, share and trace your supplier data and documents and integrates supplier data directly into your product development and supply chain business processes.
Compliance early and often
To avoid the scenario we mentioned before where a product is deemed noncompliant pretty far along in the development process and gets sent back to the R&D drawing board, it's crucial to involve the Regulatory team early on in the product's lifecycle.
A PLM system like Devex does just this. Formulators can work side by side with Regulatory Compliance teams to minimize risk early and get that product to market quicker.
The Devex PLM regulatory module reduces this complexity by directly integrating compliance checkpoints into every stage of product research, development, formulation, labeling and distribution. Instead of tracking down insights, regulatory teams can verify products' compliance, generate and keep updated safety data sheets, dossiers and certificates, as well as reduce recall risks, improve internal safety, sustainability and operational standards across the supply chain and with just one system.
Packaging and labeling
A PLM system stores all the information necessary to create the product packaging in one place. You can create labels and artwork and build workflows to support your unique packaging needs.
Relax. Restore. Reformulate.
Consumers may love your product so much that you want to expand the product line. With a PLM system, it's quick and easy to reformulate a product to expand the line based on consumer demands.
Eliminate spreadsheets, miscommunication and data silos.