Webinar: Realizing Product Lifecycle Management on a Global Scale with Cargill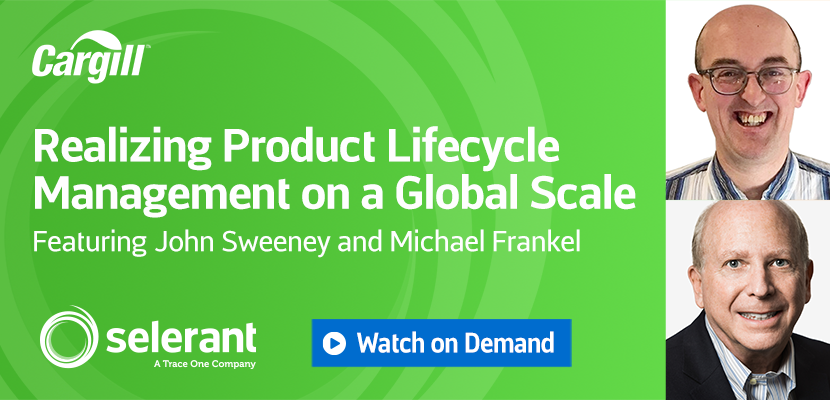 Watch on-demand to learn:
How Product Lifecycle Management is being utilized by leading companies like Cargill to significantly optimize its product development process

The actions that are taken to promote and deploy PLM on a global scale

How Selerant's Devex PLM technology supports end-to-end product development

Where to uncover immediate areas of immediate and possible ROI

Major takeaways from deploying PLM—whether on a smaller or global scale
John Sweeney is the Director of R&D Shared Capabilities with Cargill—a leading global food manufacturer doing business in over 70 countries headquartered in Minneapolis, Minnesota, USA. John has been with Cargill since 1993, and leads their global R&D team. During his 28-year career with the food giant, John has also held key roles in quality management, technical management and food applications. Cargill began their global deployment of the Selerant Devex PLM solution in 2018.
Michael Frankel is the Senior Vice President of Sales, North America for Selerant Corporation, a leading global provider of Product Lifecycle Management (PLM) solutions for process manufacturers in the food and beverage, personal care and specialty chemical industries. Michael has been with Selerant since 2011 and has over 15 years of highly successful PLM sales experience working with leading global companies to justify, automate and extend their product development processes.
Expedite products to market You May Also Like
Food & Beverage

"I can't imagine not having Devex," says the Senior Research Scientist. "As a product developer, we're given a product and told to do something new. We use Devex as a tool to really speed up how we assess a formula."

Food & Beverage

Committed to continuous improvement, Barilla Group sought a way to streamline recipe development, manage nutrition labeling, and maintain compliance with regulatory requirements.

Food & Beverage

"We can quickly add new product criteria and perform analysis," says a Senior Research Scientist in charge of new product development. "One of the most important points is cost. With Devex PLM, we can immediately determine materials and ingredients (M&I) cost."
Single Source of Truth Product Development
From idea to finished product, Selerant's Devex PLM software ensures compliance and facilitates end-to-end innovation throughout formula-based product development. Leverage integrated PLM tools and processes that boost the visibility, harmonization, validation, and traceability of data and activity at each stage of your product lifecycle.